Lily Helen Hewgill
Lily was born prematurely in Shanghai while we were on the way home from a holiday in Europe. Just 11 hours from departing on a flight to Auckland, Amy's waters broke and Lily was born two days later. This blog follows Lily's journey.
---
6 October 2013
Amy and I are pleased to report that Lily has finally come home home with us! After nearly four weeks in NICU in Auckland, Lily was given the all clear by her doctors and we brought her home on Thursday.
Lily's original due date was 17 October. She was born at 27 weeks gestation on 19 July, weighing just 990 grams. She spent 76 days in hospital: 50 days in Shanghai and 26 in Auckland, including approximately 15 hours in transit via Sydney. On discharge she weighed 2.39 kg.
Further updates on Lily's progress will be posted occasionally at http://hewgill.com/lily/. We will close the Givealittle site and the Facebook page soon.
Lily is doing very well now and she represents the best outcome we could possibly have hoped for. Starting from Amy's emergency hospitalisation in Shanghai, it's hard to believe that we have come this far. We couldn't have done it without the help of everybody around the world who has donated time, assistance, goods, or funds to ensure Lily came home safely. We sincerely thank each and every one of you.
From here, a new chapter of our life begins. Although none of our little family were born here, we have been overwhelmed by the generosity of Kiwis everywhere and more than ever before, we know that New Zealand is truly home. Kia kaha.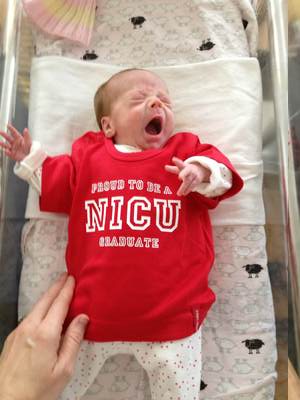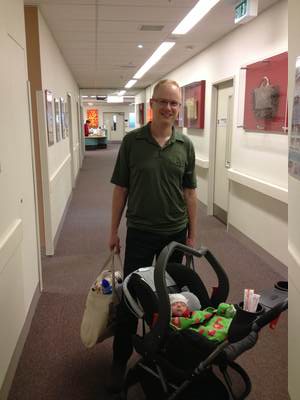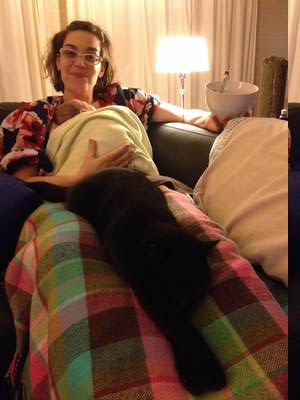 ---
13 September 2013
We have had a busy week. Both Amy and I have spent nearly all our spare time at the NICU, getting involved in both the daily activities (feeding, nappy changes), watching her thrive, and talking to the staff about her progress. How is Lily doing? She has gained over 100 g in just three days, which is more than she gained in a week in China. She is learning to breast feed and has daily cuddles with her parents.
The hospital has spent the last five days investigating and observing her, learning about her strengths and weaknesses. This requires lots of tests to collect data. Through all of this she's a pretty relaxed baby with very little upsetting her. However, yesterday after Amy had changed her nappy, given her a feed, and put her back in the incubator she was still upset. She even gave her a pacifier but with no success. The nurse simply swaddled her and she quietly settled and fell to sleep. We are learning the basics of parenting through the experienced and caring staff at the Auckland NICU. The lactation consultant has given Amy helpful tips to ease the breastfeeding process (which is harder than it sounds!). Amy even found out that the NICU offers CPR and other classes to NICU parents before they go home. This is the kind of valuable training and encouragement that every first-time parent needs. Compared to our previous situation, we are still getting used to the vast difference in our level of participation, access to information, and facilities available to us in the NICU. The hospital is only a 15 minute drive from our house, and is on a direct bus route, which makes it easy for us to visit as often as we like (parents of NICU babies have 24/7 access).
When will Lily get out of hospital? Lily is now 35 weeks gestational age and has less than 5 more weeks until she would be full term. Normally prem babies are released close to their expected due date. The basic criteria are: (1) breastfeeding all of their meals (if breastfeeding is chosen); (2) gaining weight; (3) breathing without assistance. Every baby is different, some will stay longer and some will leave earlier. When Lily will actually get released is completely based on her performance.
When can I see Lily? Preemies are at greater risk for serious infections for the first year of their lives. Because of this we plan on being very careful about who she is exposed to. Sorry, no public touching. She won't be locked away in a castle, but she will be under close supervision. As you can imagine she is very important to us. We appreciate your patience and hope you understand.
How can I follow Lily's progress? Amy and I will be updating occasionally on Lily's progress on a yet to be determined blog. We will discuss this shortly and try to update you all on the Give a Little site soon for the web address. Thank you all for helping us Get Lily Home!
---
Lily's Repatriation photos
Use this link (even without a Facebook account) to see pictures of Lily's travels home.
---
9 September 2013
Greg and Amy: On Saturday evening, Amy and Lily boarded a Qantas flight from Shanghai to Sydney. Upon arrival in Sydney on Sunday morning, they immediately transferred to a waiting air ambulance jet. They arrived in Auckland on Sunday afternoon. Success! We had one false start because they were supposed to leave on Thursday evening, but an electrical incompatibility with Lily's flight equipment prevented them from departing.
This operation would not have happened without a lot of work from some really dedicated people who we would like to thank. Of particular help were the doctors and staff at Shanghai Children's Medical Centre, Glenn McKay of Medical Rescue, Dr. Ben and nurse Clayton from Medical Rescue, Ali at the New Zealand consulate in Shanghai, and the staff at Starship/Auckland NICU who received Lily.
So far, Lily has had her first real breastfeed and her first kangaroo cuddles from both mum and dad, all within the first 24 hours of her arrival. She had an excellent flight and although there were risks, she had no ill effects. We spent more time with her today that we did collectively over the past seven weeks in Shanghai.
The reality of all of us being together is still sinking in. The difference in level of family involvement between Shanghai and Auckland is overwhelming at times for us. We are absolutely elated that Lily is home and we can now see her whenever we want.
Thank you to everybody who has been following our journey, and to everybody who donated to help bring her home. This wouldn't have been possible without the help of so many generous people.
For those of you on Facebook, we have a new "welcome home" page at http://a.pgtb.me/wtdnqj where you can share a message to us or tell us your own story. We plan to continue to write about our experiences in the Auckland NICU but they won't be daily updates like this. Check back here for a link to that once we set it up.
---
8 September 2013
Greg: Amy saw Lily today, she has now reached 1700 g and is now taking 23 mL of milk per feed. The big news today is that we have a plan for transferring her to Auckland. It's been a long day and we will tell you more about that tomorrow.
---
7 September 2013
Greg: Amy has been using some of her spare time to do souvenir shopping. She's been in China nearly two months now, but has hardly had a chance to do any! Shanghai is the land of stark contrasts, around one corner might be a sparkling new shopping district with big-name designer stores, while on the next corner there might be stalls with cheap trinkets, somebody doing moped repair on the footpath, busy fruit and vege stands, and street food vendors. Once you find the streets where there are tourist shops, you can find all kinds of merchandise big and small, cheap and expensive, handmade (maybe?) and mass-produced. Of course Amy has limited luggage space so she won't be getting anything big, but I'm sure she will find something that will be meaningful to Lily as she grows up.
Amy had a chance to see Lily with clothes on today! They continue to lower the temperature in her incubator, which is why she needed something to wear. The extra-small preemie hat was apparently still floppy on her. But Amy said she looks adorable nonetheless. We'll post some pictures when we can.
---
6 September 2013
Greg: As those who know me will already know, I am a software engineer. In software engineering, we have a saying attributed to Fred Brooks, a former IBM engineer, who in 1975 wrote "The bearing of a child takes nine months, no matter how many women are assigned" (referring by analogy to the fact that assigning more people to a software project doesn't get it done any faster). While that is generally regarded as true, it turns out that one can actually have a baby in as little as six months with the help of a LOT of women. Lily was born three months early. In the past seven weeks, Amy has come to know quite a few members of the Shanghai expat community. In particular, there is a group called "Shanghai Mamas" who have basically adopted Amy and looked after her most important needs. They have helped with accommodation, meals (a few times a week), transportation, fundraising, equipment, clothing (for both Amy and Lily), communication, even manicures and massage. The number of donated milk bags we still have is astounding. Last week we needed something called Human Milk Fortifier; we were initially told that it didn't really exist in China. The Shanghai Mamas had found a local distributor contact within an hour, who had some delivered directly to Amy by courier the next day. We owe a huge debt of thanks to all the women who are helping Amy get through this time.
Amy dropped off more milk for Lily at the hospital, but didn't get to see her today. The doctor said her good health continues and she is now taking something like 22 mL of milk per feeding. She just keeps improving!
---
5 September 2013
Greg: It was brought to my attention today that we hadn't actually mentioned that Lily had been declared fit to fly (by her Chinese doctors). This happened just after I left Shanghai a couple of weeks ago. Since that time, we have been exploring all possible avenues to get her home while she remains in good health (if she were to get another infection for example, she wouldn't be able to fly). Not only do we need the Chinese doctors' approval, but we also need approval from the doctor who will be looking after her in transit. There is so much logistical complexity, with equipment compatibility with aircraft, staff familiarity with equipment, power requirements, oxygen requirements, aircraft clearances, visas, customs, transport of necessary drugs across international borders, … this is what we have been learning about. We have been through so many potential plans and also setbacks, that I guess we missed mentioning the important "fit to fly" milestone. Sorry about that!
Amy was able to see Lily today and she is up to 1620 g. She is looking really well and is continuing to breathe room air. She's really our little rock right now.
---
4 September 2013
Greg: Amy has had to return the laptop computer she borrowed, so I'll continue to post the updates here for now.
I've been looking at Lily's pictures and it's possibly too early to tell, but we just might have a little redhead on our hands! Amy is very excited about that possibility, since after all she married a redhead. :)
Ever since we got the word that Lily was ready to fly, we have been trying to arrange the flight logistics. This is a very complex operation, it's not at all like normal air travel. Lily is so small and fragile that every precaution is being taken and every contingency is being considered. We have had tentative plans in place, and then setbacks which disrupt those plans, for what seems like weeks (oh right, it has been weeks). It has been an emotional roller coaster, but we just continue to take it one day at a time. It seems the only thing we can really count on is Lily herself, as she just keeps improving.
Amy's pregnancy app on her phone says her baby would now be the size of a rockmelon (cantaloupe), and would weigh about 2.15 kg. Lily is 1.6 kg and growing quickly, so she's not far behind!
---
3 September 2013
Greg: Amy went to see Lily today, and was able to actually sit down with her for 15 to 20 minutes. This was one of the longest visits so far! She is now 1600 g and is taking 20 mL of milk every 2 hours (most of it by mouth, some by feeding tube). And another milestone - she is now breathing atmospheric oxygen (she remains in the incubator for temperature control).
This past Sunday was Father's Day (in NZ). Lily wasn't supposed to have been born yet so I hadn't planned for this to be my first *real* Father's day. But it was, and my daughter is currently about 9500 km away. It was a lot quieter around the house than it ought to be. I guess I will have to wait until next year before she can bring me breakfast in bed. :)
Amy noted that she has been in Shanghai for 7 weeks today. How long does one need to remain in the same city before you can consider having "lived" there? We reckon Amy has reached that point, she knows Shanghai pretty well now. And of course, Lily knows no other place yet!
---
2 September 2013
Amy: Yesterday I went to the pool for a relaxing, but crowded swim. When I put on my dry swimsuit it felt nice, cozy but not too tight. However once I got in the pool my bottoms nearly floated away! It took me 50 meters to figure out why. Any guesses? Last time I wore them I was pregnant. The swimsuit has adjustable sides and when wet swimsuits loosen up. I had to balance on a thin ledge while I retied the bottoms to fit. I'm sure it looked quite funny to the lifeguards. I'd like to end on a happy note, so I'll leave it there. Tomorrow I see Lily, more updates then.
---
1 September 2013
Amy: Our little angel wished her papa his first happy Father's Day. When I arrived at the hospital today they were putting away the feeding supplies. I was gutted to miss seeing her fed (still haven't) but she was content and sleepy. I watched her drift off to sleep while I stroked her head and quietly talked to her.
I visited Yuyuan Garden today. It's an old urban garden in the classic "old area" of the city. It's quite compact. Since I need to breast pump frequently (every 2-3 hours) I often have to be a little daring and somewhat innovative. Today pumped in a popular tourist spot (Yuyuan) but previous spots include: the airport bus, a park, Ikea food court, taxis and the back of cars. Twice I've pumped at the hospital until I realised that I was using their ONLY meeting room and that was unfair to the other families.
To wrap up I would like to wish all you Papas a fabulous belated Father's Day, especially those new dads.
---
31 August 2013
Amy: Yesterday the Chinese Drs. put me on an errand to find this supplement for Lily, buy it and bring it to the hospital ASAP. This would be relatively easy in NZ (or elsewhere) but in China what-a-mission! I searched online (they gave me two manufacturers to look for) and nothing came up about where to buy it. So I enlisted help. The first helper said "it's not available in China, other than ordering it on Taobao (a Chinese specific version of Trademe or ebay). The second helper said "sure, let me e-mail my friend who works for the manufacturer in the States". The manufacturer's Shanghai office phoned me directly (about an hour later) and arranged to get some brought to me the next morning. It IS available in China, but only on Taobao, which is hard to get an account and completely in Chinese. Anyway, yay for the win!
I delivered the supplement to the hospital today, got a status update and pushed my luck to ask to see Lily. They let me in, no problem. I pushed my luck further and stayed a good 10-15 minutes since it was slow. The doctor watched me like a hawk (they always do) but was lovely and didn't verbally pressure me to leave. Lily gained a few more grams since yesterday (it's a slow but steady rate which the supplement should help with) and we got a few test results that came back well. She's also off of oxygen completely now and only given it "as needed". She was nodding off when I arrived but making her best Mick Jagger impersonation. Very cute.
I've been kinda lonely this last week as it seems everyone I've asked to hang out with is busy with their lives. Therefore I decided to walk around Yuyuan garden shopping area with the intent on hitting the garden tomorrow before the hospital if the weather is cool like today (a cool 28C/82F). I really enjoyed myself and made an evening out of it. I'm hoping to hit the swimming pool tomorrow to relieve some stress since my back is still in knots.
---
30 August 2013
Amy: I went to the hospital to see Lily today. The doctors brought me in and let me spend 10-15 minutes with her. It was unbelievable. This was the longest amount of time I've spent with her since she was born 6 weeks ago. She was looking fantastic. I asked if I could hold her (something I still haven't done yet) and they said "yes, as long as you hold her from within the incubator." They kind of missed the point. Regardless Lily and I had a lovely visit. She was semi-alert and I cradled her on my forearms while I stroked her head. Her hair is looking more red like her daddy's. It's a shame we won't be home for NZ Father's Day on Sunday, but we'll have many more with her daddy.
Every time I leave New Zealand to travel I wear my pounamu (greenstone) necklace. Since I've been in Shanghai I have worn it everyday. Having a piece of home has never been more important to me than it is now. It keeps me grounded and reminds me of what I'm missing. In one of the places that I stayed at they had a few stones from the South Island west coast. It sounds silly but I caressed the rocks and thought of home. Hokitika is one of my favourite places, it relaxes me. Whenever I get stressed now I just rub my necklace. I miss New Zealand... especially the birds. I'm looking forward to hearing them again soon.
---
29 August 2013
Greg: Lily has hit a big milestone today! She is 1500 grams which is apparently a point where prem babies really start growing quickly. She is up to 14 mL of milk every 2 hours, and is nearly completely off supplemental oxygen.
We have received a lovely collection of donations from the New Zealand Deaf community. There's some cute stuff in there, and we'll post a photo on Facebook tomorrow.
Amy has a pregnancy app on her iPhone that each week compares the size of her baby (assuming still in utero, of course) to various fruit. This week, at 33 weeks, Lily is apparently the size of a durian. Don't know what a durian is? Look it up! It's a big foul smelling fruit that sort of resembles an angry pineapple (on the outside, anyway). You can find them in the grocery stores here. We are pleased to report that Lily does not look (or smell) anything like a durian. :)
---
28 August 2013
Amy: Today was a self-maintence day. My back had been feeling run-down and I needed to see a chiropractor for a re-alignment. The chiro did an admirable job bouncing off of me. She made several adjustments, but couldn't straighten me completely out. At one point she said "your back is like a brick". I don't doubt it with all the stress.
I also had a really lovely outing with a friend. We went to lunch and then roamed around this "antique" alley where it's more like a garage sale of old (and brand new) trinkets. It was nice to get my mind of off the stresses of the situation.
Progress has been made since yesterday on the evacuation and I hope even more will be made tomorrow. Movement is finally happening towards the goal, let's hope that momentum kicks in and it can happen quickly! (crosses fingers)
---
27 August 2013
Amy: Lily is doing exceptionally well today. She's up to 1470gms. I'm told by the Chinese doctors that once she hits 1500gms that's a milestone, a magic number. She'll be packing on the pounds (or kilos) after that. As predicted she's up to 11ml/2hrs of breast milk with a few of those cc being fed orally. Her dependence on oxygen drops significantly daily. She's now nearly at room oxygen levels with the oxygen hood, which was formerly over her head, now just place beside her. The doctors anticipate removing it entirely very soon. All her vitals are stable and she's off all significant medications, though she's taking her folic acid and iron just like her mom did/does.
I wish I could say that her mother and father were doing as well. The delays in the evacuation are taking their toll and the stress of six very difficult weeks have kicked in. There is seemingly no end in sight as we are excluded from communication (not by choice). It makes me wonder if she has to sit up start walking and talking before I can get her on a plane home.
I wish I could end on a happier note, but I'll just leave you with a cute picture of Lily (facebook). She was yawning up a storm today and really active. It's great to see her awake, it's only the second time I've seen her alert like this. She even had a cute little milk moustache.
---
26 August 2013
Greg: No real new news today from Lily, except that she continues to do well and is taking 11 mL of milk every 2 hours. It's so heartening to know that she's getting more and more of the best food there is.
Lily got a lovely care package today, delivered to Auckland. Our nieces and nephew in Texas sent us a variety of hand-drawn artwork and hand-made items. There are even a couple of blankets for Lily to use once she gets home. I opened up the package here and showed Amy each item via Skype. Thank you very much!
---
25 August 2013
Amy: it's miraculous how my head cold lay dormant while Greg was here. Since he's gone it's come back again. It makes me wonder if it's allergies. Maybe I'm allergic to China?
Despite a little sneezing, the NICU practically insisted I see my daughter today. They slapped a face mask on me & told me to wash my hands well. She's now up to 8ml/2hrs by tube and 1cc/2hrs orally. Yay! Tomorrow they are trying 11ml. Her breathing & heart rates are normal now. She was dozing on her tummy (better for preemies in NICU regarding oxygen rates) when I saw her. I was careful not to wake her but gave her a light touch on her back. She looks a lot like Greg, even the doctors say so.
---
24 August 2013
Amy: Greg is heading back to Auckland today. We got to visit Lily three times in his brief 1 week stay. I moved house today to flat-sit for another family while they are on vacation. I'm very comfortable here
A few fundraising events donated to Get Lily Home recently. One was Yolanda and her family in Christchurch who put on a pop up vegan restaurant evening for Lily. Yolanda sent through some photos which looked like everyone had a fabulous time. Another event was put on by the AUT New Zealand Sign Language students, who I go to school with. Both events were a big success and we're grateful to the organizers and participants for their time and donations. If you've organized an event on our behalf we'd love to hear about it.
We're still about NZD $50,000 short of what we need for the air ambulance (AUD $180,000/NZD $200,000). However, you guys have given us so much already. Thank you. thank you, thank you.
As far as we know Lily is doing really well and slowly being acclimated to room air levels and temperature. We are told that once she gets to be about 2kg she can come out of the incubator (which regulates her temperature so she doesn't need to use too much energy to do that herself). I will be at the hospital for a "milk run" tomorrow. I should get an update on her progress and with any luck a quick peek at my little one. more news tomorrow...
---
23 August 2013
Amy and Greg: Lily is looking really well today. When we went to see her, she was asleep and didn't open her eyes the whole time. But we talked to her anyway and gave her little cuddles (or at least as much as you can give when she's in an incubator). Lily is now 1420 grams and is taking 7 mL of milk every two hours (it was three hours previously). She has an oxygen hood with slightly more oxygen level than normal, and the doctors are trying to reduce that. Her incubator is down to 31 C (was about 35 C). So, she is slowly adjusting to normal atmospheric conditions, preparing herself for the big world out there.
Yesterday we went to Ikea here and bought her a big red and yellow snake (since this is the Chinese year of the snake). We'll use that in her cot to support her while she is still small, and probably much longer.
We have had a good week with Greg in town and the family together, and are looking forward to the day we can all be home together.
---
22 August 2013
Apologies. Our Internet is broken tonight. We will have an update tomorrow with Lily's current status. All is well tonight.
---
21 August 2013
Amy & Greg: China has a way of throwing curve balls. Just when we get one foot forward we have to take two steps back. Yesterday we had a brilliant surprise that Lily is doing well and improving quickly. However today we are told that the doctors are not ready to give her flight clearance and have not given us any timeframe for that happening or criteria for what she needs to accomplish medically to do so.
The only progress that we had today was picking up the visas for us (Amy & Lily) which Amy successfully dropped off last week. This means that we (Amy & Lily) can stay for up to 3 more months and leave whenever the time is right.
The only redeeming quality to the day were the delicious cinnamon buns which were supplied by CinnaSwirl China, our new favorite company.
---
20 August 2013
Amy and Greg: We saw Lily today and she looks great! She's up to 1410 grams and eating 8ml/3 hours. When I pulled back the incubator cover to have a look at her, I burst into tears. It was the first time since her birth that I had seen her whole face and head. It was the first time I'd seen her eyes open. Her breathing was even better today and they had taken the machinery off of her but have her under an oxygen "hood". She has brown hair and dark eyes... sorry she didn't have the beautiful red hair that her dad passed on, at least not yet.
The rest of our day we were on a high from seeing our little girl looking so well. We went to the world famous Shanghai fabric market to get some dress shirts made for Greg. They're really cheap; a man's long sleeve cotton button shirt is about NZD$30 compared to over $100 in New Zealand.
We continue to be well taken care of by local Shanghai expats, today we had an excellent black bean chili with fresh zucchini bread. Yum! Tomorrow we are working on getting Amy and Lily's exit visas renewed and meeting with a few new friends.
---
19 August 2013
Amy & Greg: Today wasn't a bad day. Greg and I hung out at a local mall for a small dose of western style culture, then I went to an osteopath to try to sort out my back & headache issues. While transiting we were discussing this "Preemies" book. It gives some really good advice about NICUs and what to expect medically and emotionally. One page talks about "coping emotionally" and lists feelings such as: worry, regrets, anger, shock, helplessness, and a sense of spinning through wild extremes.
In America fortune cookies are common at the end of a Chinese meal. To make them more entertaining people often add "between the sheets" to the end of each one as they read their fortune aloud. Greg and I joked that instead of "between the sheets", we need to add "in China" to our own fortune of this emotional roller coaster. For example "Anger that it happened, undeservedly, to you and your child IN CHINA" or "Shock that your baby and family are the actors in this weird unexpected drama IN CHINA." Maybe you had to be there. We found it amusing. These light-hearted moments help us keep our balance.
Tomorrow we see Lily. I will try AGAIN to take my scented cloth to put in her cot. Check back for updates on her tomorrow. =)
---
18 August 2013
Amy and Greg: Today we went to see Lily. This was the first time that Greg got to see Lily in three weeks. Amy had arranged with the doctors (twice, on two different days) so that both of us could come see Lily on Sunday. However, when we arrived the staff on duty didn't know anything about it, and we had to arrange permission all over again. Not only that, but Amy had arranged to leave a small item with her scent on it in Lily's incubator (this is so the baby believes mum is nearby). Since the weekend staff doesn't seem to communicate with the weekday staff, this message got lost too and they wouldn't let Amy leave it. Or, they said we could leave it if they could disinfect it first, which of course defeats the purpose.
Lily is now 1350 grams, and is taking 7 mL of breast milk every 3 hours. She is looking well, and her colour looks much better than last week. But she is no longer the smallest baby in the NICU since a new one (weighing 1 kg) arrived earlier this week.
We heard a good quote today that sort of sums it up for us: China is a wonderland where everything is possible but nothing works.
---
17 August 2013
Amy: Greg arrived this morning in Shanghai for a visit. It's wonderful to have him here. We briefly left the house today to go to the Jing 'an Temple and get some lunch in the area. The Temple is a beautiful old wooden building with ornate marble carved staircases and golden rooftops. It was built in 247 A.D. and moved to it's current location in 1216 A.D.
Tomorrow we are off to see Lily. Our hosts here also return from their holiday. Greg also brought me my brand new breast pump so I can appreciatively return the one I have borrowed. I have also acquired some of my stash yarn from home which I'm using to make Lily her first crib blanket. The test swatch looks pretty good and I'll sleep with it tonight and leave it in her incubator tomorrow so she will know I'm always near. =) Good night!
---
16 August 2013
Amy: My cold is improving. Besides a nasty occasional cough and a persistent headache, it's nearly gone. It should be completely cleared up by tomorrow morning!
I got some of Lily's test results back. She's a straight A student, just like her mom. Her mucus culture was negative for bacteria (yay!), her respiration continues to improve, she's now eating 6ml every 3 hrs and if she tolerates it well, they will increase it by 1ml increments starting tomorrow. She's also putting on weight like a champ; she's 1310 grams. I should be able to see her on Sunday and have negotiated with the NICU to put a cloth (which I'll sleep with) into her cot so she can smell me.
Our "Preemies" book has been invaluable in informing us on what to do/not do since the nurses and doctors have not been forthcoming in this area since we still have communication difficulties. This was one of the suggestions to help calm the baby and have a familiar scent.
---
15 August 2013
Amy: I've been here 4 weeks yesterday. Lily is 31 weeks today. Tomorrow it will be 4 weeks since her birth. My pregnancy app says she should be the size of a pineapple, though I think she's be a small pineapple today. Tuesday she was 1280 gms. I'm hoping tomorrow she will have gained even more weight.
I'm still under the weather so I'm lying low today. I ventured out to get juice from the store yesterday. You know how Toyota Prius can sneak up on you with their silent electric engines? Imagine hundreds if not thousands of Prius on 2 wheels, driving every which way on the sidewalk. Now, remove any helmets from the drivers, make it night time and just for fun, the vehicle's lights are broken or not turned on. It's nerve-wrecking. But that's China. The smaller vehicles have to give way to the larger, so pedestrians have "right of way" but that's only if you're local. Crossing the street (or walking on the sidewalk) is a high-concentration activity. I haven't had any incidents yet, touch wood.
I should have more info on Lily tomorrow since I'll be talking to the doctors in the afternoon.
---
14 August 2013
Amy: not much happening today. I was sick so I stayed indoors most of the day. Lily remains in improved health (as far as I know). I delivered breast milk to the hospital today and continue to struggle with bureaucracy. Tomorrow I would love to go to La Leche League's monthly meeting, but I'm afraid I'd be contagious. Let's hope I'm not here for the next meeting (no offense ladies!).
---
13 August 2013
Amy: Finally, some good news. Lily is responding well to the treatment she's getting. Her breathing and other levels are improved. They've taken a culture which we should get results on in a few days. This will indicate how her infection is/if she's still infected. Tomorrow they're doing a few more test to check her lungs, but early indicators are that she's improving. She's up to 1280 grams today and taking 4.5 cc of breast milk every 3 hours, which is an increase of .5 in the last few days. We've also got the first indicators of what her medical status needs to be before she is fit to fly.
I developed a head cold yesterday (yeah, I know... no luck), so I took it easy today and didn't leave the house. Greg is working on visiting us soon. His work continues to be supportive of us in this difficult time.
As Greg said yesterday I had a productive day; We set records yesterday I'm sure. I did THREE tasks which normally take 3 days each. With the aid of a Chinese speaker I completed them in less than 2 hours. Thanks so much to Dominica (Australian) and her driver Michael for making yesterday such a success!
---
12 August 2013
Greg: Amy got an early start this Monday morning and efficiently sliced through bureaucratic red tape to accomplish not one but TWO important tasks! But not without waking up this morning with a sore throat. Unfortunately, that means no more visits to the NICU to see Lily until she is feeling better. We wouldn't want to risk the health of Lily or the other children in the ward. A simple cold to an adult can be devastating to a preemie.
Amy was able to submit the applications for extending her (and Lily's) visa to stay in China. At first she was told that she needed yet ANOTHER document to support the application, but she was able to ring the hospital and have them prepare the document and fax it over. Amy is so thankful to have bilingual helpers volunteer their time to make things go more smoothly for us. Amy also opened a Chinese bank account, which turned out to be a lot simpler than we thought. Some people in China have been asking how they can donate to the Get Lily Home cause, and this gives them a way to help.
Amy said this is the first day in Shanghai that she hasn't felt as though the weather was overbearingly hot. I looked at the temperature today is still 38 C, but the humidity is a lot lower which makes a big difference. Amy is taking advantage of her morning successes and is having a well-deserved nap this afternoon.
---
11 August 2013
Amy: Given that I'm a first time mother I reckon I'm like a lot of moms, I will eventually have to take home my baby and I'm kinda freaked out about this because I have NO IDEA WHAT I'M DOING. Ironically we've been denied the free ante-natal class that we've registered with because we've already given birth. After everything that's happened I'm not surprised and I kinda don't care though it would be nice to have that coffee group.
I got to see Lily today when I dropped off milk. She's up to 1170 grams and stable since her transfusion on Thursday. She's still having trouble breathing but it's better than it was. Did you know that less than 5% of births occur at less than 28 weeks? Of all the literature I've been reading she's got a good chance of not only survival, but thriving once her body catches up. She's simply underdeveloped and needs some time to grow. I sang and talked to her today and gently caressed her skin. She gets too excited sometimes when I do this and they ask me to stop because her heart rate gets too high. I've read that preemies who are consistently touched and caressed do better than those who aren't. I hope she's getting the physical attention that I can't give her right now. The nurses at the NICU today sort of complained that I carry so many bags to the hospital (1 for breast pump, 1 cool bag for delivering milk, and my purse.) I was just reading on a NZ online resource that "... lugging around your own pump is exhausting.... (the NICU) should provide parent lockers if you do have to carry your pump with you." Yeah, no. Not in China.
I hope you all have enjoyed seeing our travel and Lily's gift pictures on Facebook. Because all of my photos are on my phone, I haven't figured out how to get them on the Give a Little page. I apologize for this, but I'll keep working on it. It would be nice to update some of the photos here. I HAVE tried.
Tomorrow I'm working on new exit visas (the last ones are expiring) and filling out and dropping off stupid blood paperwork. Bureaucracy is a waste of a perfectly good day. I hope your Monday is better than mine will be! ;)
---
10 August 2013
Update on Lily August 10, 2013
Amy: Today I headed back to the hospital, but not the Children's hospital. I was back at the hospital for me. When I get antibiotics I often get candida. This time I have candida in my breasts. It's painful and puts me off wanting to breast pump, but I'm not stopping. So, I go to the same hospital I went to the other day (see Aug 7 or 8 update), wait for 1.5 hours and finally get seen. I tell the doctor that I have a yeast infection in my breasts. She examines me and states "no, you do not have mastitis." I said "I never said I did. I said I have a YEAST infection." "Well, we can draw blood and check your white blood cell count, but I can't treat you" she says. Perplexed I say "But this is a YEAST or FUNGAL infection, not a bacterial one. You can't find yeast in a blood test" as I wonder who is the real doctor in the room (apparently me). "Ok, but I'm only a GP, I can't treat this symptom" she says. "YES, you're a GP. You should be able to treat this" I say. Come to find out her role is limited to colds and diahorrea. I state that I am paying out of pocket and I have lots of other medical bills without having to leave there and find a specialist OB/GYN to see and pay them as well (tears were involved). At this point I'm contemplating getting up and walking out without paying. She finally comes to her senses and calls a colleague who can assess my condition over the phone and ask the original "doctor" to prescribe the anti-fungal medication I came in asking for. This is China.
I was also a bit homesick today. Not only did I see Mainland cheese at the western supermarket, I also bought some nice Hawkes Bay wine (I thought of you Richard). Yesterday I also spotted "Almond Blossoms" by Vincent VanGogh in a shop. Two years ago I painted our entire bedroom wall with that painting. I miss home. Other things I saw: "Cafe Montmartre" (we were just at the original Montmartre eating bagettes and crossiants last month) and the Montecarlo Grand Prix was on the tele tonight. Wow, we were JUST there.
I picked up more generous donations of used clothing, milk storage bags and RMB. Thank you everyone, it will not go to waste. FYI I now have ~560 milk storage bags (no joke). I think I'm set. I wanted to post some pictures of the lovely gifts Lily has been given. You will find the photos on our Facebook page "Get Lily Home". She got some practical and cute gifts from the ladies at KEA shanghai & Shanghai mamas such as: a fabric horse with movable legs (made in Oz), a sleep shirt (100% NZ merino), a fabric book, some cotton crocheted booties, and several preemie sized onesies.
One last correction, I apparently have baby brain because Lily was born at 27 weeks gestation, we've been here 3 weeks..... 27+3=30 weeks gestation. God help me, I think the breast pumping is catching up to me. G'night!
---
9 August 2013
Greg: Amy was able to visit Lily again today after her blood transfusion. She was looking much better, her breathing seemed more regular, and she was more active. Her haemoglobin levels are back up to normal. This will give her the energy levels she needs to keep growing those lungs, so she can be ready to fly. (There is a new video on https://www.facebook.com/getlilyhome)
Amy and I both have a copy of the same book, "Preemies: The Essential Guide for Parents of Premature Babies". It's been invaluable for us to be able to do our own research when the doctors say something like her haemoglobin levels are low. The book reassures us that it's normal for all babies (premature or not) to have some anaemia. Amy said they could have titled this book "Rough Guide to the NICU" which seems appropriate for us, since we had just finished with "Rough Guide to France" a few weeks ago!
The doctors in Shanghai and Auckland had a teleconference today, so we are finally getting the right people in end-to-end communication. Naturally the primary concern of the doctors is the health of Lily and minimising the risks of flying. We are now starting to get information about what exactly her health will need to be before she can fly. It's still not possible to put a date on that, though.
One last thing.. yesterday Lily needed a blood transfusion, so the doctors did that successfully. Today, Amy got a document from the hospital, which explains (in Chinese of course) that she gives permission for the hospital to give Lily blood. Amy needs to sign this and then take it to the blood bank where the blood came from, so the transfer can be properly documented. This Is China: Do what needs to be done, then fill out the forms later!
---
8 August 2013
Greg: Lily is 29 weeks today. We just got news that Lily is anaemic and needed a blood transfusion because her red blood cell count was too low. This is a pretty scary thing to be told over the phone in broken English while you're in a taxi. However, Amy and I both have books about prem babies and apparently this condition is not unusual, but it means her Shanghai doctors feel she is not currently fit to fly. We were so hopeful that we would be able to transport her soon, and to get a setback like this is so disheartening.
There is a teleconference set up for tomorrow between the doctors in Auckland and the doctors in Shanghai. It might seem amazing that it has taken this long, but the logistics of an international transfer like this are incredibly complicated and it's been bureaucracy all the way. We hope that with the right people talking to each other, there will be a better understanding of her clinical status and fitness to fly.
We have received some really heartfelt messages from supporters who have been in similar positions. Some even have stories of premature births that happened in another country on the very last day of a holiday, same as us! It's reassuring to know that children born in these situations can still grow up to be healthy, happy adults.
Amy: What I miss most about not being in New Zealand? The weather. It's SO hot here right now you can literally fry an egg on a manhole cover. The environment. China has really poor air quality. I have a killer headache right now, this could be why. Also there are very few pretty green places in Shanghai (unlike NZ) and when it's this hot and polluted no one wants to go out.
I'm pretty devastated that she can't fly right now. We'll have more information after the doctors talk.
---
7 August 2013
Amy: Today was full of ups and downs. I've had a prolonged case of diarrhea. It's not pleasant. I've finally gone to the doctor and gotten probiotics and antibiotics to clear up the issue.
There is an expression here: "This is China" or "T.I.C." There is so much red tape here and a completely different way of life that I can't even explain it here. Do you know the expression "you don't know what you don't know"? That's China in a nutshell. You'll be asked to get one thing, you get it and bring it back, and then they tell you that you need to also bring them this other thing, and repeat and repeat. Nothing is straight forward here. This is the kind of nonsense everyone helping us (and me) are dealing with. It's frustrating, but we just have to anticipate delays and try to work around them.
Tomorrow I'll pick up Lily's Consular Report of Birth Abroad from the US Consulate in Shanghai. A big thank you to Melissa V and her team at the US Consulate for their fantastic support. Also Ali M at the NZ Consulate is working tirelessly to help get us home. We really appreciate her help, thank you Ali! Medical Rescue are working through some very difficult obstacles behind the scenes to get Lily and I home ASAP.
I spent 4 hours tonight getting my personal e-mail inbox down to 16. This is a huge accomplishment. I'm still working on the rescue.our.lily e-mail. That address currently has 137 to respond to. I'm slowly working on it. Lily is our priority, so I apologize if I can't respond immediately, but I'm sure you all understand.
The Shanghai Mamas are continuing to keep me well fed... so much so that I have food for a family of 4 in my fridge and it keeps coming. I've had to cancel breakfast and lunch deliveries because I have so much food I can't eat it all.
KEA (Kiwi Expat Association) also continues to be in touch and offer any assistance. I'm especially grateful to Jack Sheppard (a local Kiwi) and Susan Hine (with the US Consulate General) for translating important medical documents for us. A big thank you to both of you for your amazing and accurate speedy work.
---
6 August 2013
I think the maid (Ayi) is getting frustrated with me. It is common for foreigners to retain a maid, even part time in Shanghai (possibly all of China). It's cheap labour and convenient to have someone who cleans and watches the kids for you. I must say I'm slightly uncomfortable with having one provided for me where I'm staying. But she comes nearly everyday despite my protests. When she arrives there is little for her to do (I'm only one person and don't make much mess) and I am inexperienced with having someone else DO everything for me, therefore she has little work. Tomorrow I have asked her to please order more water. No one drinks the tap water here because it's full of metals and not really good for you to drink. Therefore everyone orders filtered water in large drums which they install on a water cooler, which doesn't always cool, just dispenses.
A new acquaintance recently told me about her experience in the NICU. She said that for several months another family also had their baby in the NICU. The mother had had a difficult complicated birth and was re-cooperating elsewhere and couldn't be with baby. However, the father would come in everyday after work still dressed in his business suit. He would sing the same song to his daughter everyday, then spend time with her and go home to take care of his wife. I keep thinking about what song I will sing to Lily so she recognizes me. I don't know any lullabies, so I might have to choose some silly modern song. What song would you choose to sing everyday to your baby? (post answers on our facebook page "Get Lily Home"
Lily looks like a Star Wars fighter pilot with her eye shield and nose mask. She's adorable in a heartbreaking way. They keep her eyes covered because normal light is too bright for her under-developed eyes. I can't wait to see her eyes for the first time.
While Lily was doing well we were waiting for her to get stronger, however she has started to have some trouble breathing so we've decided to try to move her as soon as possible. Things are in the works and now being expedited pending medical professionals' opinions on her status. She will only be moved when they are confident they can give her the same care as the NICU and transport her safely. We are NOT risking her health to get her home.
Thank you for keeping us in your thoughts. Our days are sometimes hard. Today was one of them.
---
5 August 2013
Amy: I'm writing this from bed... I'm tired so I'll keep it short. My new shoes are comfy and working well. My kiwi angel delivered a few clothes items from home today, so I have clothes that fit! Also, someone found and bought me undies in my size here in Shanghai. My immediate needs are sorted.
My milk production is going strong and thankfully my loaned breast pump was fixed with a replacement battery; what a relief.
I continue to meet interesting and generous locals (some of whom have only just arrived) as they escort me to the hospital or socialize with me. It's comforting to meet new friends in such a large city.
I have no new news on Lily, but I will get an update tomorrow. We inch closer to our goal of getting her home however we have no firm date. It all depends on finances, her health, and visa paperwork... all of which are being worked on. On top of this Greg and I are learning about life in the NICU and new terms and conditions which are common in these circumstances. It's a hard start to being a new parent, but I think we're doing pretty well all things considering. More info tomorrow since it's a hospital day.
---
4 August 2013
Greg: Today I went to the library in Auckland and got a couple of books on premature babies. I started reading one of them, and right up front on page 2 it reassuringly says "The professionals involved in your baby's care will give you in-depth explanations of her health and of all necessary procedures and treatments." Yes, well, that might be true if we spoke the same language as the doctors! We almost have to laugh at the absurdity of our situation. But this is our reality, and we just have to take it one day at a time.
Amy has been taking care of herself too. She enjoyed a massage today that was donated by one of the Shanghai Mamas; and her new shoes, despite not being the style or colour she ordered, are reportedly very comfortable.
Amy went to the hospital today to drop off more breast milk. She had a quick chat with the doctor, who said that Lily's condition continued to be stable. There are little ups and downs (as parents, of course we hang on every slight indication of possible trouble even if it turns out to be nothing), but overall she is still doing well. She continues to take 3 cc of breast milk every 3 hours, which is the most important thing that Amy can do for her right now.
---
3 August 2013
Amy: Today was a feel-like-a-human day. I had been overdue for a haircut and a leg wax, so I got down to business and got things done. I also had lunch with one of the lovely families here in Shanghai. They also had a hair-raising story of their own and their strength and resilience is an inspiration to me. I am so grateful to all the people who have been supportive of us, as it helps us to continue taking one day at a time.
I received my new shoes in the mail today. The only thing that was correct on them was the maker and the size. Colour and style both wrong, but what the heck, it's China! I'm grateful to have shoes that don't rub and I have a husband who will happily wear them (men's shoes) when I return home. I also have another angel who is flying to Shanghai tonight and bringing me my shorts and medicine from home! Thank you kiwi angel! The Shanghai mamas have me fully stocked with breast milk bags for about a month (at least 2 weeks) and breast pads for several weeks. I've had huge donations of clothes and food, so many that I've had to be selective because my wardrobe would be huge (I'm packing light).
Things continue to progress forward behind the scenes, but no firm dates yet. As long as her health remains good we have options of getting her home sooner rather than later. Someone asked this: what was her birth weight? Lily's birth weight was 990 gms, she is now 1kg after losing and gaining back some weight. She's in the positive now and only going to get bigger. ;)
---
2 August 2013
Amy: There is a Chinese proverb that says "when you have a rough start, your life will be smoother later on." I'm really hoping this applies to our little girl. She's had a rough couple of weeks but she's been a real trooper. I got to see her today. The short story is, she's got issues, nothing too major. Everyday is up and down in the NICU. Good news comes with not so good news. We are taking it in stride. Lily has gained weight and is now 1KG, 10 gms heavier than her birth weight.
Yesterday I tried calling the NICU for a daily update. I think we've mentioned that's nearly impossible because with the communication difficulties and I only understand maybe 20% of what is being said. I am getting a first hand education in what it's like to rely on an interpreter for communication and how important it is to have control over that communication... fully participating in your own decisions. My only useful updates are when I have an interpreter present. Sad but true.
My shoes have been delivered, and I will pick them up tomorrow. The battery for my breast pump has been shipped, but not yet delivered. Hopefully that will come this weekend. Thank you to everyone who has been in touch. I would like to reply to you all, but the response to our situation has been overwhelming (a word I'm using a lot lately) and I can't reply to all. If you could please channel your suggestions and advice through our two main contact people that would be more helpful so I can focus my energy on getting my daughter home. Greg and I would really appreciate this. If you have well wishes or want to let us know that you've donated, we would still love to hear from you directly, but please know that we can't reply to all of you promptly. Our NZ contact: Melissa S, her e-mail is: melissasuesutton(at)gmail.com Our Shanghai contact is: Heather T, her e-mail is: heatherbelle_20(at)hotmail.com
both of these women have been incredibly helpful and are in direct communication with me should you need to tell us something important.
---
1 August 2013
Greg: Amy has had another busy day. Last night the battery died in the portable breast pump that she has borrowed, so she was stuck with pumping near a power outlet. She had called a local dealer that assured her (in broken English) that yes, she could come get a new battery. But before travelling all the way out of town to the shop, she had a Chinese speaker call to confirm, and it turns out they actually did NOT have what she needed. Finally she found a place that could supply a new battery, so that should be delivered soon.
Amy has moved into a new apartment that is a bit closer to the places she needs to go. The local help is amazing - she is getting meals (and social time) brought to her by members of the Shanghai Mamas group; another person donated a form-fitting double pumping bra; still others lent more breast pumping accessories; other offers of help (more than what one mum and bub needs!) keep coming in. We continue to be heartened by the generosity shown by others.
One of the things that visitors to China are required to do, if not staying in a hotel, is to register the actual address at which they are staying with the local police. Amy had already done that for herself, but what about Lily? Lily is "staying" at the children's hospital so would presumably need to be registered there. But after 20 minutes on the phone with the consulate, Amy discovered that requirement is only necessary for those visitors on a "Tourist" type visa. Our visas are of the "Humanitarian" type, so such registration is not actually required. This is the sort of bureaucratic paperwork that seems to come up every other day but may or may not be important.
Lily's condition is still stable. She is taking 2.5 cc of breast milk every 3 hours. Amy will be visiting the doctor tomorrow to get an update on her medical status. It's very difficult to do by phone and really needs to be done in person for maximum comprehension (on both sides). A visit inevitably means an hour or so in the crowded metro (taxis are cheap, but the metro is more than 10x cheaper) and an unknown amount of time waiting to speak to the doctor.
Finally, we love reading your messages of support on the givealittle site. Those of you who share a small part of their own story often bring tears to our eyes. Thank you
---
31 July 2013
Amy: Not much to report today. I have finally started to listen to music again. It's been weeks since I last listened to anything, but it gives me comfort. I've also started writing in my personal journal. It's nice to have a place to focus my daily frustrations and struggles, hope and sadness. As far as we know Lily is fine. I continue to get a lot of advice from people who have never been in my situation, which is frustrating as I know they mean well but can't possibly understand what I'm going through.
I have been offered an apartment to housesit while the owners are away. It's a lovely place and I am very grateful for a place where I won't be in anyone's way. My hosts thus far have been amazing and I have really enjoyed my time with them, but I don't wish to impose myself for long and therefore I've decided to try living in this new place for a while. I have been told I can always come back if I change my mind. The new place is slightly more central and closer to where Lily is.
I was invited to go to a orphanage nursery yesterday where they insisted that I hold babies. I got to feed a baby with spina bifida as well as hold one with club feet. It was devastating because these are such beautiful babies and to know that they have a hard road ahead of them unless someone really wonderful adopts them. I had to hold back tears. As beautiful as they were, I just wanted to hold MY baby.
It continues to be absolutely unbearably hot here... regularly in the high 30s C/High 90s F with humidity at around 55% on a good day. As soon as you leave air conditioning you are covered in a layer of sweat and gunk, but everyone else is too. That's just Shanghai. I still have no good shoes. I tried ordering some online, but they didn't arrive today. Oh, and the battery for the breast pump died..... greaaaaat. I'll call the local branch of the manufacturer tomorrow (I have the contact details) to try to get one ASAP.
---
30 July 2013
Amy here: The Chinese have a "30 day rule" regarding post-delivery.  New mothers should not cook, clean, shower, or do much of anything for 30 days including go outside.  Their mother will come and take care of them (and baby) for the entire month following.  See more details about it on www.havingababyinchina.com.  Since Greg is not here to help me, the nurses and doctors now think that I'm crazy.
First of all Lily is doing really well. Her lung function is ok. She's on the CPAP machine still, however the settings are quite low just to prevent her from any distress (the oxygen settings are only slightly above normal atmosphere.) She's on a stimulant (similar to caffeine) to help her breathe more easily. She's on vitamin K1 and taking 2.5cc of breast milk every 3 hours. They plan on continuing to increase this by .5cc increments over the next few days. Her vital signs are good and she's put on a few more grams (now 950gms). She had a elevated white blood cell count a few days ago, but today's results indicate that it is lower and in a better range. Her condition continues to improve.
I found converse knock offs today, but no shorts. We'll continue to update you as things progress. Coffee group tomorrow with fellow Kiwis. Lily got a really adorable stuffed kiwi from the KEA group as well as a few NZ merino hats to keep her warm. A big thank you to the locals for making me feel so welcome.
---
29 July 2013
Things Amy had never expected to do: Express milk using a breast pump while on a Chinese airport bus. Amy saw me off at the airport when I left to return home, and the bus trip was the next time to collect milk (every 3 hours!).
While we were at the airport, Amy's shoe split clear across the sole. Of all the bad luck we have, we still keep getting more. Amy wears a size 11US or 10NZ shoe, therefore it's next to impossible to find anything that will fit.  She found a pair or jandals/flipflops the other day which are now rubbing blisters between her toes.  Amy's one pair of maternity shorts are falling off of her because she's lost so much weight (post pregnancy).  Shopping for a NZ 14 sized woman is also nearly impossible, so she will attempt to get shorts made at the "fabric market" tomorrow. The fabric market is famous for doing custom tailoring in a fast turnaround for cheap.
Finally, Lily continues to be in good health. She has reached the 28.5 week gestational age, at which point the prognosis for premature children becomes very good. She now has a PICC line which can be used to more effectively administer required medications. Tomorrow Amy is expecting a full medical report from the doctors, so we should have more up-to-date information on her condition then.
---
28 July 2013
Nothing new to report today on Lily's status. She continues to breathe on her own (which is great) and take milk. Check back tomorrow for another update.
---
27 July 2013
On Friday we spoke to the doctors about Lily. She continues to improve and they have increased her breast milk intake from 1cc to 1.5cc every 3 hours. The doctor specifically said that she is strong and her prognosis is good because she's breathing on her own, not on a ventilator. The doctors will provide a detailed medical report next week which will help assess when Lily might be ready to fly.
Today Amy dropped off 2 litres of breast milk in 200ml bags collected over 5 days (frozen). The nurses were stunned and explained that they needed only 20-30ml per bag, 8 bags a day, instead of 200ml per bag. Just another comical thing that got lost in translation. The taxi ride takes about 1.5 hours round trip and costs approximately NZD$25 with light traffic. Amy is currently staying with expat acquaintances but is looking for another expat family to stay with closer to the hospital (SCMC in Pudong) and on the metro line 4 or 6 (close enough to walk). We have had SO many offers of help and are slowly working our way through them.
The Kiwi Expat Association (KEA) in Shanghai has contacted Amy and some members will be having dinner with her soon. Another expat mothers group is also organizing a coffee meetup to introduce her to some locals. Today was the first day that things weren't hectic. We will be slowly making our way through correspondence while we wait for the medical reports next week.
Greg has returned to Auckland to attend to some things that needed to be done at home. Greg's employer continues to graciously allow us to take the time to attend to our family needs without requiring him to return to work straight away.
We continue to be moved by constant stream of generosity and supportive messages from everyone. Thank you so much. Every day we get a little closer to getting Lily home.
---
26 July 2013
Baby Lily continues to be in stable condition. She currently has no signs of infection and is taking breast milk. This is the best we can hope for in her current situation and we hope she is growing well. I'm sure she misses her Mum and Dad.
We met with the staff at the NZ Consulate in Shanghai again today and they have been so helpful. The government can of course only provide assistance in certain specific areas (such as preparing emergency travel documents), and certainly can't take responsibility for transporting Lily home. That is what travel insurance is supposed to be for.
The Chinese government has also been very accommodating and has provided an exit visa for Lily to leave China just days after she was born.
Finally, we would like to thank Shanghai Children's Medical Centre for providing Lily with excellent medical care. The reason we need to bring her home is for access to information and contact with our baby. Your support will help bring our family together.
---
25 July 2013
We have now completed all the paperwork needed for Lily to return to New Zealand and receive the care she needs (passport and Chinese exit visa). The remaining issue is her medical status and getting her doctor's clearance to fly. Neither we nor the doctors want to do anything that could endanger her life, but we are trying every avenue possible to find a way.
The support we have received so far has been phenomenal. Amy and I are reading all the notes that you send by email, add to the givealittle donation, or squeeze into those tiny bank transfer fields :). Some of the most touching are the small ones with more heart than dollars.
We have been working from dawn to midnight to get all the paperwork in order. Soon this will change into an agonising wait. It's comforting to know that all of you are supporting us in your own way.
---
24 July 2013
Lily's medical status is now stable but she has not yet been cleared to fly.
Offers of local support have been amazing. We now have a place to stay in Shanghai, we have many local contact numbers, and we have found medical interpreters. We are now concentrating on behind the scenes flight details.
Travel documents for all of us should be done today. Thank you to the New Zealand Ministry of Foreign Affairs and Trade, the NZ consulate in Shanghai, the US consulate in Shanghai, and the Chinese government for their help in expediting our paperwork and for their support.
Please remember that as we are in China, all our usual social media tools such as Facebook and Twitter are blocked. At this time, givealittle is the easiest way for us to keep everybody up to date. There is a Facebook page at https://www.facebook.com/events/183026448540920/ - we can't participate but friends will post updates on our behalf.
Thank you all. Your support means so much to us.
---
22 July 2013
My wife Amy and I were transiting through Shanghai on our way home after holiday in Europe, and she unexpectedly gave birth to a premature baby girl (27 weeks gestation). Mom and baby Lily are doing OK now.
Lily is now in Shanghai Children's Medical Center in Shanghai which is an excellent hospital by Chinese standards. She was born on 19 July 2013 at 17:25. She was 990 grams and 40 cm. She now has an official Chinese birth certificate.
In the Chinese health system, as parents we have high responsibilities but few rights. We cannot visit Lily except by extra special permission on a one-time basis (we have seen her once since birth). However we are responsible for buying and supplying anything she needs beyond what the government supplies.
Our problems are compounded by the fact that we cannot speak, listen, or read. We get documents from the Chinese public health system and cannot understand what we are asked to sign. We do not even get copies. English, where it exists at all, is only very basic and cannot be used to truly understand what is happening to our little girl.
Our current plan is to evacuate her to New Zealand as soon as possible (which could be weeks because she must be stable first). Our travel insurance is helping but will not cover Lily's expenses. We are contacting every resource we can think of to help.
NZ, US, Canada embassy/consulates
Family and friends
Travel insurance
Greg's employer
Medical evacuation companies (Asia Pacific Jets, International SOS)
Our midwife in NZ
Bank/mortgage/credit cards
Red Cross
We expect the costs to be in excess of $200,000 USD for the flight. Once in NZ, she will be fully covered by the public health system and we can see her and help her develop into a healthy child.
What we need:
(DONE) A place to stay for Amy (preferably on on metro line 4 or 6)
(DONE) A support community of friendly faces in Shanghai
(DONE) Professional interpreting and translating with specialised medical experience
Money. This is the hardest thing for us to ask for.
You can help by going to the givealittle donation page that has been set up for us. Updates will be posted there. Or directly, our NZ bank account is Kiwibank 38-9005-0463830-03 (account name A N & G D HEWGILL). Anything and everything will help save her life.
Contact email is rescue.our.lily@gmail.com