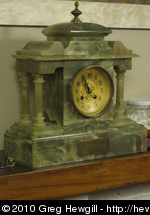 When I was young, my grandparents had a fancy marble clock in their home. It always fascinated me, because it would chime every half hour (they would turn on the chime for me). At some point, a picture frame fell on the clock, which broke apart nearly all the marble pieces. The clock got put in a box where it stayed for 30 years. But my grandparents always said it was my clock.
Fast forward to earlier this year. Amy happened to be looking at antique clocks as she was thinking that something like that would go well on the mantel above the fireplace. I said, "Hey, did I ever tell you about my clock?" Apparently, I hadn't. The next day we called my parents, who found the box of clock parts under the stairs, and we managed to coordinate its transport to here in New Zealand with only minor damage.
Some of the marble bits were broken and one of the metal movement supports was bent, but everything was present and the movement (all the mechanical bits) worked. I researched its history and found that it was probably made in France in the late 19th or early 20th century, and the adhesive used at that time was roughly, plaster of Paris and egg white. This probably protected the marble pieces because the adhesive wasn't that strong and came apart first before breaking the marble. However, we decided to put it back together with a modern glue (not too strong, but not just white glue).
The more interesting part about this clock is its history as it relates to my family. The inscription reads:
Sons of Temperance Friendly Society
Birmingham District Grand Division
Presented to Bro. William Aucott J.P.
as a mark of esteem and appreciation
on completion of 44 years continuous service
as Trustee of the above Society
August 27th 1910
William Aucott was my great great great grandfather. He was born in 1830 in Leicestershire in England, was an early trade union leader when such things were being founded for the first time in 1863, became president of the National Association of Ironworkers in 1874, and served in a number of different roles in different labour organisations throughout his lifetime. He was involved in the Methodist church, helped establish the Sons of Temperance Society in Wednesbury, and was a magistrate on the Wednesbury bench.
Exactly one hundred years ago today, William Aucott was presented with this very clock as thanks for his service to the society. I'm sure he would be happy to know that the clock remains a treasured posession in our family.