Finally, I have finished the big Peru trip report!
For the pictures-only tour, all the pictures are online in the Peru section of my photo gallery. The Highlights sub-album has 22 of the best ones if you want a really quick tour.
June 22. Amy's flight was a day before mine, so I took her to the airport for her flight to Lima.
June 23. I fly out of Austin to Atlanta and then to Lima. One other person from Austin (Carmen) was also flying on the same flight so I travelled with her. Fortunately I already knew the layout of the Atlanta airport, because we had to dash from one end of terminal A to the other end of terminal E! They were already boarding when we arrived at the gate and we were glad to have made the plane. When we arrived in Lima at midnight there was supposed to be a driver there to pick us up, but nobody showed up. We ended up getting a taxi and had a hair-raising ride through Lima to our hotel. Besides the usual speeding and total disregard for lane changes and traffic control, our taxi driver actually went through a red traffic light in front of an ambulance with emergency lights on coming the other way! The ambulance had to slow down to avoid a collision.
June 24.
We had a free day in Lima because most of our group was arriving later. We met up with a couple of local people from
CouchSurfing
that Amy had arranged beforehand. Miguel took us to see
the Barranco district
and a
pre-Inca mound
(archaeological site) in the middle of Lima. Lourdes showed us how to make Pisco Sours (a margarita-like drink) and showed us more of the sights in Lima.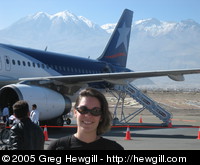 June 25.
We hit the ground running with our group and didn't spend any more time in Lima. Originally, the plan was to go to Puno and Lake Titicaca, but there were riots in Puno and it wasn't safe to go there. Instead, we took a
flight to Arequipa
where we stayed for one evening. During our short time we visited the
Santa Catalina Monastery
and had a snack at the
Plaza de Armas
. We had a unique
dinner
where steaks were cooked on a stone at your table, and they made some amazing
food art
.
June 26.
We left Arequipa early in the morning on a bus to the Colca Canyon. Arequipa has some pretty high
mountains
surrounding it, and our bus had to go over a very high mountain pass. When we reached the top of the pass at
16,000 feet (4875 m)
we got out to stretch our legs and take some pictures. It was cold and windy up there, and since the air was so thin we were continually feeling like we should take some extra deep breaths. We came down the other side of the pass into the Colca Canyon, and stayed in the town of
Chivay
. That evening we went to a pool area that was fed by natural hot springs. There is virtually no light pollution so the stars were gorgeous and the Milky Way was clearly visible.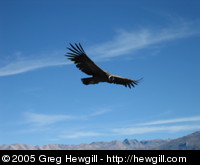 June 27.
The next day we got on our bus early in the morning to go to the Cruz del Condor to see condors in flight. Condors are the largest terrestrial birds (the albatross is larger but does not nest on land), and Cruz del Condor is apparently one of the best places to observe condors in flight. They use the rising air currents to soar up the edge of the canyon -- as a glider pilot, I know that we humans have nothing on birds, they are the experts. We went back through some
villages
and stopped to see people selling
souvenirs
against the backdrop of the valley. We saw lots of livestock like
cows
and
alpacas
(the alpaca is a relative of the llama).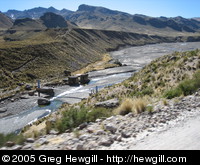 June 28.
Due to more strikes and roadblocks in Arequipa, we changed plans again and instead of taking the main road back to Arequipa and then to Cusco, we took a more direct route over local gravel roads in the back roads of central Peru. It took about 10 hours on the bus from Chivay to Cusco, and we travelled through towns such as
Espinar
that had probably never seen white people before. While on the bus our tour leader (Gary) organized a quiz to see whether we had been paying attention to everything that our local guides had been telling us. It was all in fun, of course, but Amy and Sam and I won a bottle of pisco and some Coke, which we shared with anybody on the bus who wanted some. As I held the plastic cups for the "Peru Libres", Amy poured the Coke as the bus bounced along the rough gravel road. We arrived in Cusco around dinner time and had to fight our way down the alley to our hotel as we were accosted by dozens of restauranteurs trying to lure the newly arrived tourists into their establishment.
June 29.
Starting early in the morning again in
Cusco
, we left for a whirlwind tour of the Sacred Valley, visiting the
Pisaq
and Ollantaytambo ruins. We also visited a roadside mini-zoo that had live llamas, alpacas, and vicunas, and were of course also selling all kinds of associated products. The
long-haired alpacas
looked particularly comical, they are like the hippie versions of normal alpacas. We stayed in the town of
Ollantaytambo
that night, our last stop in civilization before embarking on the trail.
June 30.
This was the first day on the four-day trek on the Inca Trail, the highlight of our trip. After spending much of the last several days on buses, we were eager to get away from the bus and out into the outdoors. We arrived at km 82 (the start of the trail) at around 10am. After sorting through all our luggage and taking the obligatory
group photo
, we then had to stand in line for another hour at the passport control station before we could get on the trail. There are just 500 people per day permitted on the Inca Trail, and access is strictly controlled through preregistration.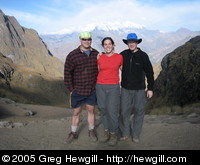 July 1.
Day 2 of the trail is the grueling day. We got up at 6am and were on the trail shortly after 7. The idea was to take four hours to get from camp (about 10,000 feet) to
Dead Woman Pass (13,851 feet)
, and an hour or so down to the next day's camp (about 12,000 feet). At camp, we would have lunch and then have the rest of the day off to relax. Sounds like a good plan, right? Here's what actually happened: We started at 7am and reached the top of the pass at 3:30pm. Of course, we had not had lunch yet. Two hours later, we arrived at camp and they did indeed have lunch waiting for us. This was at 5:30pm, and was the first actual meal that we had eaten since breakfast at 6am. After lunch, dinner was served at 7pm. As you can imagine, we thought that this part of the trek could have been planned a little better. We spent the night immediately next to a stream that ran past our campsite, it was a pleasant sound to fall asleep to (not that we needed much help).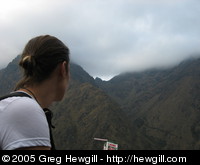 July 2.
Day 3 starts with a wakeup call at 5am and hitting the trail by 6. The day started by visiting one
set of ruins
, followed by
another pass over 13,000 feet
. We visited
more ruins
, saw some
lovely scenery
, and finally reached
our camp on the side of a hill
. We actually had lunch at the proper hour this day, yet we were still totally wiped out when we reached camp.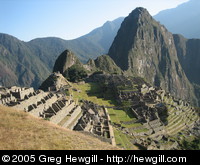 July 3.
We woke up at 4am this morning for a
5am departure
. We had to hike with flashlights for the first half hour or so. We saw a
nice sunrise
and a
train in the valley
. We climbed up to Intipunku, the Sun Gate, where we saw our first
view of Machu Picchu
. The sun finally came up over the mountains and we saw the
sunrise
over the ruins. Our guide gave us a short tour of the ruins, where we saw the
Temple of the Sun
,
llamas
, and lots of
rocks
. It might have been nice to spend some more time there and explore, but by 10am we had been up for six hours and we were hot, tired, and ready to sit down. We took the bus down the hill to Aguas Calientes where we wandered around town for an afternoon. The only way to get to the town is by
train
, there is no road. The buses that take people up to Machu Picchu are brought in on the train too.
We returned to Cusco on the train and checked into our hotel. We walked in to the hotel and some of our bags (that we did not take on the hiking part of the trip) were waiting for us. I saw my bag sitting right on the top of the pile. I walked to the other side of the room, stood there for about five minutes while room keys were distributed, then walked back to pick up my bag. But it was gone. We looked everywhere in the hotel, checked with everybody in the hotel (both our group and another group of travelers) to make sure nobody had accidentally picked it up, checked in the baggage storage room, we just couldn't find it. We eventually came to the conclusion that somebody had probably stolen it instead of it simply being misplaced. Fortunately, there wasn't anything really important in there, just a few books and random papers, a pair of jeans, my cell phone, and a compactflash memory card. Luggage loss was covered by our travel insurance, so we would just file a report for the loss.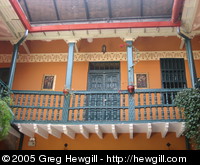 July 4.
Today was our day to explore Cusco. We didn't have much opportunity to do so, because much of our day was spent in the Cusco police station, filing a lost baggage report. We made a list of everything we could think of in the bag, and sat down with an officer who transcribed the information into a handwritten notebook in spanish. Then we had to go to the National Bank to pay 3 soles (about $1) and get a receipt, and return the next day to the police station to pick up an official typed report. While we weren't doing that, we did get a chance to see one of the cathedrals in the main square in Cusco. We had a guide who didn't speak very much english, so we listened to him speak in spanish about the three churches in the cathedral and all the art that was hanging on the walls. It was really interesting to hear about the local artists who painted Christian art but embedded symbols of the Incas in the paintings. Similarly, the Spanish missionaries tailored aspects of the Christian faith to be more acceptable to the local Inca population. For example, the church had several ornate mirrors that reflected the sun's light, because the Incas worshipped the sun. There was even a painting of the Last Supper with a roast guinea pig ("cuy") on the table!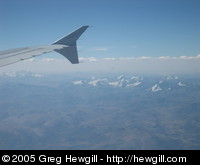 July 5.
After returning to the police station to pick up our lost bag report, we took a short flight back to Lima. Our friend Lourdes met us at the airport and we saw some more of Lima with her. It was interesting to do things like go to the movies in areas where tourists normally wouldn't bother to go. None of the signs had any english on them, and there was no expectation that the service people would speak any english. We were fortunate to have the opportunity to see this non-tourist side of life in Peru.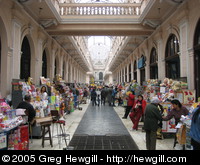 July 6.
Our flight left around midnight, so we had the whole day to explore Lima. We went downtown to the
main square
where there was a
strong police presence
there due apparently to potential civil unrest. We never found out whether this was related to the problems in Puno and Arequipa, but they had police officers in riot gear stationed at each entrance to the main square. They weren't letting anybody but people who were obviously tourists into the square. At first, we were turned away because Lourdes asked what was going on. Later, we acted more like tourists, with our cameras in hand, and they let us pass without a problem. We had some more excellent
ceviche
at a sidewalk cafe for lunch. Curiously, traffic control at some major intersections during the daytime is handled by
officers on a pedestal
in the middle of the intersection. At night, the traffic control reverts to ordinary traffic lights.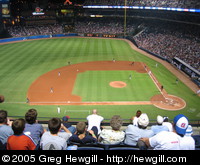 July 7 and 8.
We arrived in Atlanta on the
morning of the 7th
. We hung around Atlanta for a couple of days and saw a few things including the
Coca-Cola museum
(unfortunately, they didn't have Inca Kola there), the Cyclorama which is a huge circular oil painting depicting the Battle of Atlanta in the Civil War, and an Atlanta Braves baseball game (the Braves scored a run to win in the bottom of the 9th!).
I recently got my cell phone bill and it turns out that my bag had definitely been stolen in Cusco. Although I had brought my cell phone for use en route, I had no expectation that it would work at all in Peru so I didn't try. The thief, however, discovered that it did indeed work and racked up $100 of usage before the battery ran out or something. Of course since I have a police report I am trying to get those charges reversed.
<greg@hewgill.com>