Wow, it's been forever since I've actually sat down and written a livejournal entry. I know I should do it more often, especially when you people are trying to follow our progress, but we never seem to have enough time. We manage to get internet connectivity every few days, but I'm a slacker and fail to update. How about this: Whenever we get net connectivity, I'll at least update and say where we are. Would that work?
Anyway, here is the daily summary of the whirlwind Colorado part of our trip.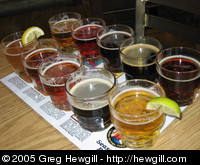 09/15 - We left Kansas not a moment too soon. We were pretty much done with the endless fields of sunflowers, corn, abysmal beer selection (both Bud
and
Coors!), and the massive cattle feeding farms (those are
not
happy cows). Colorado was like a breath of fresh air. We stayed in Idaho Springs, just west of Denver up in the mountains, and had some excellent food and beer at Tommyknockers brewery. This marked the start of our practice of getting the "sampler" serving of beer whenever we ate at a brewery. Austinites, watch for Tommyknockers in the beer section of your local store soon, it's really good stuff.
09/16 - We headed north through more mountains and stopped for some supplies in Boulder before camping in Rocky Mountain National Park (Amy needed a sleeping bag, we also picked up some camping food). We got a great camp site for two nights and set up our tent. Almost immediately some deer appeared in our site, but we only saw them that one time. It was
cold
that night, good thing we both had warm sleeping bags!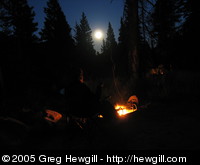 09/17 - We hiked up to Alberta Falls, and had intended to take a loop trail around a couple of other lakes and back to a different bus stop. However, somewhere we took a wrong turn on the poorly marked trail and ended up taking a small trail following a stream back to where we started (having the GPS in hand was really useful here). Along the way we rounded a corner and encountered an elk buck, which surprised all of us (including the buck). That night we roasted marshmallows in the campfire and made smores.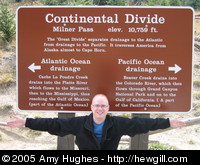 09/18 - My thermometer said that it was about 35 F in the tent, and 31 F outside the night before! (I awoke several times during the night and checked the temperature.) We decided that while camping is fun, we wouldn't camp if the forecast was to be below 40 F. Brr. We drove across the Trail Ridge Road to the west, stopping at Milner Pass and the continental divide, and found a place in Grand Lake. After getting situated there, we went back into the park to do some hiking and saw a family of moose by the side of the road. Mom and calf were pretty close to the road, but the buck was further away.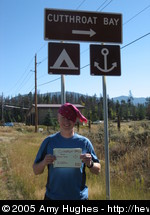 09/19 - Arr! What good fortune to pass by ye Cutthroat Bay on Talk Like a Pirate Day, mateys! We followed the dastardly Colorado River all the way to the scurvy town of Glenwood Springs. There we visited ye Glenwood Caverns, a great place to hide yer treasure if ever ye might need to.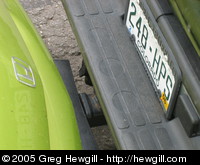 09/20 - While eating lunch at an Asian cafe in Glenwood Springs, somebody had backed their enormous SUV into our car (fortunately, there was no damage). It was a company vehicle, so Amy called the number on the side of the truck and talked to the sympathetic receptionist who confirmed that yes, that actually was the boss' wife's car. I guess she had just backed into the parking spot and rolled back until she hit something. Anyway, it only just dented the license plate. The rest of the day we spent floating down the Colorado river in a raft. The rapids weren't very strong (not like in Spain last year!) so we ended up doing a lot of just floating. But it was relaxing and fun.
09/21 - We headed south through Redstone and toward the Black Canyon of the Gunnison. The fall colours were just amazing, yellows and reds and oranges against the evergreen background. We ended up in Ouray, a cute little mountain town that calls itself the "Switzerland of America". There are lots of 4WD trails in the area, so we planned to rent a Jeep the next day and explore.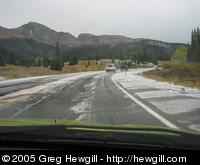 09/22 - It turned out to be raining this day, so after checking with a couple of Jeep rental places we decided to abandon that plan and move onward. We took the Million Dollar Highway south (so called because it is estimated that there is a million dollars worth of gold dust in the dirt used to build the road), stopped for lunch in Silverton (where it had snowed just a couple of hours earlier), went through Durango (where we had planned to stay but it didn't seem very interesting), and on to the little town of Mancos. After finding a room there at the Old Mancos Inn (a small 10-room place run by two guys, one of whom happens to be the mayor of the town), we headed out to Mesa Verde National Park. We saw a few things just before closing time and headed back to Mancos at sunset.
09/23 - There was a hot air balloon festival in Mancos that weekend (we had seen a brochure in the Durango visitor's center, which is one of the reasons we chose to stay in Mancos). We had signed up for a balloon ride for this evening, so we found our assigned pilot and piled into his van to head out to the launch site. We were having a bit of trouble getting the balloon inflated, because we were one of the last groups to set up and the wind was starting to pick up. Our pilot decided to abort the flight, and to give us a good ride the next morning rather than a mediocre one in the evening. Oh, and we saw some more of Mesa Verde park again during the day.
09/24 - We got up bright and early and headed down to the town park to find Steve (our pilot). Just as we arrived, he was already starting to inflate his balloon - a minute later and we might have missed the flight completely! We hopped in the basket and took off. Hot air balloon flight is very different from fixed wing - the winds at different altitudes are absolutely critical for the flight. If you're at the wrong altitude, you end up going the wrong direction. Anyway, we had about a 45 minute flight which included a "splash and dash" in a lake (where we actually touch down in the water and get our feet wet, then go up again). We landed in a field on the other side of the lake and had to be careful to avoid stepping in fresh cow pies while we packed up the balloon. We then headed out to Four Corners for the obligatory silly photographs of us standing in four states at once. We ended up staying the night in Monticello, UT.
Our adventures in Utah are coming up in the next post.