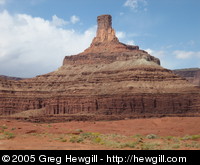 09/25 - We went into the Needles area of Canyonlands National Park today. We did a hike around the top of a mesa, seeing several viewpoints along the way. The Colorado river does flow through this park, but it hasn't carved quite as gaping a hole as the Grand Canyon. The canyons are nevertheless quite impressive. We hiked around the top of a mesa which was hot, dry, and rocky. We then continued north to the town of Moab.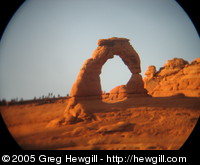 09/26 - We went into Arches National Park and saw many of its famous features including Balanced Rock, North and South Windows, Double Arch, Landscape Arch, and the venerable Delicate Arch. We didn't hike the full mile right up to the arch itself, but instead went to a viewpoint just south of the arch. Using my binoculars as a makeshift zoom lens (holding it up against the camera lens), I got some nice photos of the arch.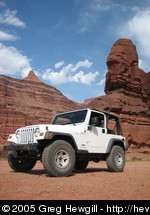 09/27 - Since Moab is one of the best (or at least most popular) places in the (continental) US to 4WD, we decided to rent a Jeep and explore the trails. We got off to a late start around noonish, with a 40% chance of rain in the forecast. Most of the day it was beautiful weather, but we ran into some rain right near the end of the day. It certainly didn't spoil the day, we had a great time climbing steep switchbacks and bouncing along trails.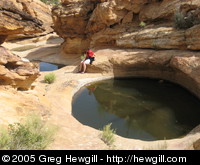 09/28 - We left Moab and headed toward Capitol Reef National Park. Capitol Reef is one of the lesser-known national parks in Utah, and it's mostly of interest to geologists. But it has several interesting narrow canyons, and some historical significance such as the "Pioneer Wall" where early explorers and settlers etched their names into the rock. We hiked up to a formation called "The Tanks" where rainwater collects in deep pools in a staircase-like arrangement.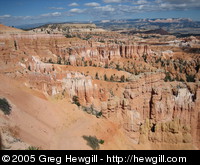 09/29 - Next up was one of the places I really wanted to see - Bryce Canyon National Park. We did a few short hikes there and took lots of pictures, but decided not to camp because the altitude is pretty high and it was forecast to be cold that night. Instead, we decided to head toward Kanab, UT.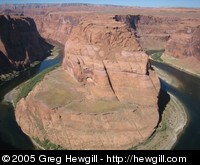 09/30 - We talked to some Germans a couple of nights before and they told us about a sandstone formation called "The Wave" in the Vermilion Cliffs wildnerness area. Apparently since this area is quite delicate, only 20 people per day are issued permits to hike into it. They told us how to obtain a permit, so we woke up at the crack of dawn and drove from Kanab to the ranger station. Ten people per day can get permits online six months in advance, and the other ten are picked in a lottery from whoever shows up in the morning. We decided to give it a shot. We showed up and found that the lottery is for the
next
day's permit instead of the same day. Regardless, about thirty people showed up and we didn't get in. So, we continued to the uninteresting town of Page, AZ and saw Horseshoe Bend. We had considered also going to see Antelope Canyon, a beautiful slot canyon in the area but we would have had to book tickets for the next day and we didn't feel like staying in Page any longer. So, we continued on to Zion National Park.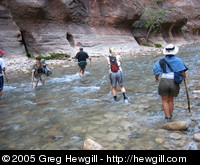 10/01 - Zion is pretty cool. One of the interesting things to do is "The Narrows", which is to hike up the narrow canyon through which the Virgin River flows. There is no specific trail, and the river occupies the canyon from wall to wall, so one must hike
in
the river itself. It's pretty cold! The deepest part was right at the beginning, about chest deep depending on where you step. We spent about two hours hiking upriver with no specific goal. Every turn revealed more canyon and more river. Finally we decided to head back and do something else (rivier hiking is tiring). We did one other short hike and then relaxed for the rest of the day.
10/02 - We did one more short hike in Zion before leaving. It seems that the hikes are either short walks up the side of the canyon, or long walks up the canyon itself. We then left Utah, passed through the northwest corner of Arizona briefly (we will return), and headed into Las Vegas one day early.
10/03 to 10/08 - In Vegas, we walked a lot, ate a lot, spent a lot, walked a lot, saw three Cirque du Soleil shows (Zumanity, O, and Mystère) and Danny Gans (not the best way for us to spend $200, don't bother unless you're over 60), played some blackjack, walked some more, then finally got the hang of driving where we wanted to go. Driving in Vegas isn't so bad really. Did I mention we did a lot of walking? We have had our fill of this crowded fantasy city and are ready to leave. Next up is the Grand Canyon and Arizona!