We visited the San Diego Zoo on saturday and spent nearly all day there, and yet only saw about two thirds of the zoo. It's huge! There was low cloud the whole day so it was kind of chilly. After spending a couple of weeks in the desert, this was quite a change in weather.
On sunday we went to the San Diego Wild Animal Park, which is really huge and would also take days to see. The weather was playing tricks on us again, starting off cold, then getting sunny and warm, then cold again with rain and thunderstorms. But we did the whole monorail tour and saw most of the animal exhibits.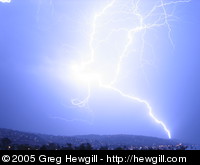 Since it was raining, we decided to head north out of San Diego to the Los Angeles area. We're staying in Laguna Beach, which if you know LA, is way way on the south end of the sprawling metropolis. So what did we do today? We drove all the way to Hollywood (60 miles) to have lunch and visit the Chinese Theater. Then we had to head back south to Huntington Beach for a chiropractic appointment. Finally, we had some excellent sushi in Newport Beach, watched the full moon rise, and came back to Laguna Beach.
Tomorrow we're going to head
back
north through LA, stop in the Hollywood area again, then further north to Bakersfield.